We can't wait to see you in Atlanta in May! See below for details about planning your trip.
Hotels and Lodging
Participants are welcome to stay wherever they choose. Georgia Tech is located in Midtown Atlanta. There are also hotels in Downtown Atlanta, which is about 1-2 miles south of Georgia Tech. Participants can take MARTA to Georgia Tech for the workshop.
Georgia Tech Conference Center and Hotel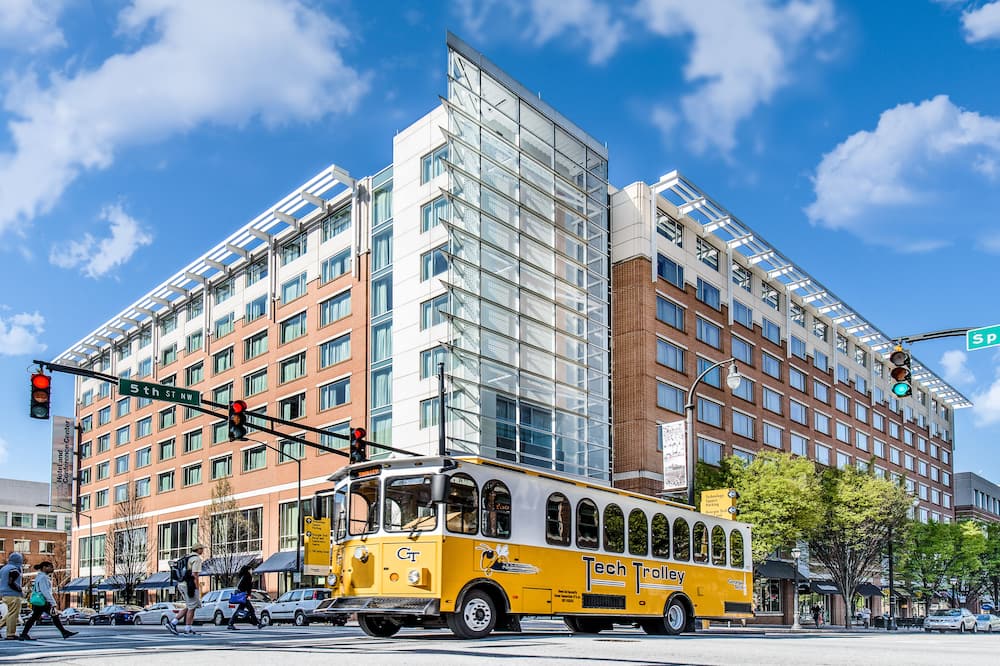 Located in: Georgia Institute of Technology Tech Square
Address: 800 Spring St NW, Atlanta, GA 30308
Phone: (404) 347-9440
https://www.gatechhotel.com/
Location: https://goo.gl/maps/xEoRfgfuKuMXV1QY9
The Georgia Tech Hotel and Conference Center in the heart of Tech Square, on Georgia Tech Campus. It is located in the Midtown neighborhood of Atlanta and on the east side of Georgia Tech's campus: https://map.gatech.edu/ For those attendees driving to the hotel, overnight parking is $21 per night with unlimited in and out access to the garage.
Getting Around/Transportation
Getting from the Airport to the Conference / Georgia Tech Campus
The MARTA is Atlanta's subway system. Trips cost $2.50. MARTA cards (called Breeze Cards) can be purchased at the Airport or at any MARTA station. From the airport, take the Red/Gold line north towards Doraville or North Springs.
You can get off at North Ave Station (N3 below) and walk four blocks north. Here is an example route from the airport.
At night, we encourage visitors to go one extra stop and alight at the Midtown Station (N4) and walk southward (or take the Stinger Bus) to the hotel.
Other Transportation
Bike rentals and scooters are available on street corners. Uber and Lyft are also available in the area.
There is daytime and overnight street parking available at the hotel (during the day the charge is for $2 per hour 8:00-22:00 Monday-Saturday). There are also parking garages in the area that charge about $20 per day.
Getting Around Georgia Tech Campus
Our campus shuttle is called the Stinger Bus (you may hear some people call it the Tech Trolley). The routes can be found here. You can also download the Stinger Bus app.
Dining
Check out these suggestions for dining options within walking distance of Georgia Tech. There are many more fun places to go that aren't on this list!
Breakfast Places:
A Taste of Greece (Nearby, great food and good for groups—open for breakfast, lunch and dinner (may not have alcohol, yet)) (3rd and Peachtree) 715 Peachtree St NE Atlanta, GA 30308 +1 (404) 343-4109
Flying Biscuit(Not huge, earthy place for eggs, grits and inspirations–a lot of food) (10th and Piedmont) 1001 Piedmont Ave NE, Atlanta, GA 30309+1 (404) 874-8887
Lunch Places:
Momonoki (Japanese style for coffee or lunch, and more) (8th and Williams) 95 8th St. NW Atlanta, GA 30309 +1 (404) 390-3025
Cypress Street Pint + Plate (the local pub, great for dinner too) (6th and Cypress) 817 W Peachtree St. NW, Atlanta, GA 30308 +1 (404) 815-9243

CODA Collective Food Hall (4 Options: Sandwiches, Mexican, Mediterranean, Poke Bowls) Coda Building: 756 W Peachtree St. NW, Atlanta, GA 30308
Fun/Offbeat Dinner Places:
Cafe Intermezzo (Euro-style restaurant with lots of dessert, open relatively late) (11th and Peachtree) 1065 Peachtree St. NW Atlanta, GA 30309 + 1 (404) 355-0411
Bon Ton (Quite small, but super fun little place for late at night—serves dinner til 10 pm) (Myrtle and Ponce) 674 Myrtle St NE Atlanta, GA 30308 +1 (404) 996-6177
Mary Mac's Tea Room (A historic Atlanta classic, reservation suggested) (Ponce and Myrtle) 224 Ponce De Leon Ave. NE Atlanta, GA 30308 +1 (404) 876-1800
Steamhouse Lounge (Beachy, casual seafood and drinks, outdoor patio) (West Peachtree and 11th) 1051 West Peachtree St. NE Atlanta, GA 30309
Quick Coffee/Snack:
Sweet Hut (boba tea, coffee), (Peachtree St and 8th) 935 Peachtree St NE, Atlanta, GA 30309
Momonoki (Japanese style for coffee or lunch, and more) (8th and Williams) 95 8th St. NW Atlanta, GA 30309 +1 (404) 390-3025
Welcome to Atlanta!
Atlanta, Georgia (metro population: 6 million) is the largest city in the U.S. South. It is known as the birthplace of the Civil Rights Movement, the 1960s movement to end a long legacy of segregation in the US. Atlanta was officially founded 1837 as a small city at the crossroads of two major railroads. Although many buildings were destroyed during the Civil War in the 1860s, the city grew during the Reconstruction Era after the Civil War. It is home to major research universities and a set of prominent Historically Black Colleges and Universities (HBCUs) including Morehouse College and Spelman College. In 1996, Atlanta hosted the Summer Olympics. From 1998 until 2019, Atlanta's Hartsfield-Jackson International Airport was the world's busiest airport in terms of passenger traffic, with 110 million annual passengers at its peak in 2019. Atlanta is headquarters to Coca-Cola, Home Depot, Chick-fil-A, and Delta Airlines, and has a growing film and arts industry that includes Warner Bros. and Tyler Perry Studios.
Atlanta is known as a 'hot' city (due to its weather), a city with a diverse population, the home to a winning baseball team–the Atlanta Braves, the 'forest city' (because of its many trees), and the capital of Georgia (the 'Peach State'). When residents aren't joking about the heavy traffic, they enjoy the aquarium, zoo, many parks, the Atlanta Beltline, the Center for Civil and Human Rights, and the dozen new breweries that now dot the Westside.

Check out Atlanta:
Discover Atlanta: Things to Do
Explore Georgia: Atlanta's Neighborhoods
Atlanta's 10 Best
Atlanta in 50 Objects (a favorite!)

In 2022, Atlanta was listed as one of National Geographic's 25 amazing journeys!! https://www.nationalgeographic.com/travel/article/best-of-the-world-2022