This week we spoke with Baran Usluel of Flightie Talkie, a Capstone Design group sponsored by the 3D Ranger Battalion, 75th Ranger Regiment to create a speakerphone payload for drones to communicate.
Q: Could you give us a brief description of your project for those who may not know about it?
A: Drones are used by the military, law enforcement and other industries to remotely navigate and surveil hazardous situations. However, there are no available solutions on the market for two-way communication with people around a drone. Our project was to design a long-range speakerphone payload for the FLIR SkyRaider R80D.
Q: Where did you first draw inspiration for the idea of the "Speaker Integration with SUAS," for your Capstone Design Project?
A: The project was proposed and sponsored by the 3rd Battalion, 75th Ranger Regiment of the US Army. They needed a solution to easily communicate with civilians or troops in combat zones through their existing unmanned aircraft.
Q: What was the design process like and how did you and your teammates come together to finish your project?
A: The design process firstly started with defining and understanding the problem, doing all the relevant research, and then moving on to concept ideation and selection. After selecting our initial concept and starting design, we discovered new constraints that took us back to the drawing board and brought us to our final design. Our ME and ECE members worked as two subteams, designing and validating the relevant subsystems mostly separately. We relied on prototyping, experimental tests and theoretical analyses to validate the engineering requirements.
Q: What were some of the problems that you faced along the way and how did you overcome those obstacles?
A: The biggest challenge for the team was the fact that we did not have hands-on access to the drone, for security and inventory reasons. There was also limited information available online as it is a defense industry product. We circumvented this obstacle by coordinating with our sponsor representatives to collect measurements of the drone, which we used to make CAD and low fidelity mockups that we leveraged in our design process.
Q: How did it feel to present your project virtually?
A: Presenting our project virtually at the capstone expo was certainly more comfortable because we were at home, but I believe it made it more difficult to connect with the judges and have natural conversations. I also felt like the ability to walk around and look at posters as in an in-person expo was lacking, although the Gatherly platform was definitely an improvement over typical web meetings.
Q: How did it feel to work with the 3D Ranger Battalion, 75th Ranger Regiment and how did they help you with the creation of your project?
A: We were fortunate to work with the Rangers on such a high-impact project. Simply put, it was really cool! They proposed the project, gave us guidance on the problem as needed, and arranged for us to visit Fort Benning to test our prototype.
Q: What do you think made your team successful in creating your project?
A: Our team members had a variety of strengths, so we were able to divide responsibilities, work individually and communicate well. We cared about the project and wanted to produce something we were proud of. Put together with helpful advisors and sponsor representatives, this set us up for success.
Q: Do you have any advice for future teams?
A: The initial project planning stages before you get to designing are more useful than you think; they can save you a lot of time later if done right. And once you get to the design stage, the semester will fly by so try to make sure you are constantly making progress! Finally, make sure each team member is clear about what is expected of them; overcommunication is better than a lack of communication.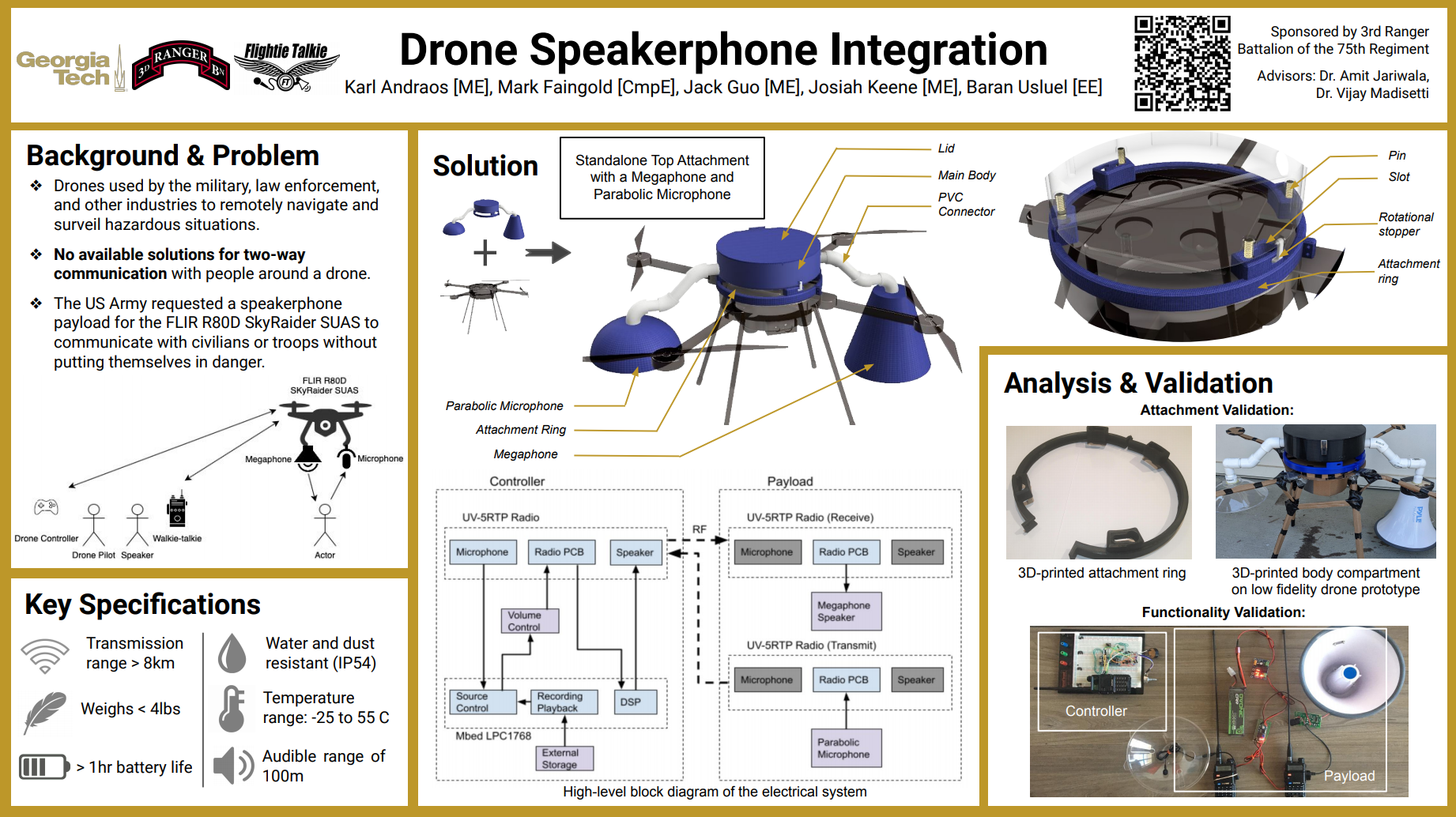 Thanks Baran for speaking with us this week!